Domain Renewals
If your domain requires renewal at the end of your agreed billing cycle you will receive an invoice 30 days before the renewal date.
Please ensure payment for renewal is made on time, late payment for domain renewals may result in the domain being cancelled or suspended.
We will send renewal reminders 7 days before renewal. In some cases if your domain expires, without you informing us of your intention to cancel service, we will contact you to confirm.
If a domain renewal is not paid by the renewal date 5RL Internet cannot guarantee they will remain the domain registrar, normally you have 92 days to renew the domain.
The following chart shows the different notifications you will receive after expiry.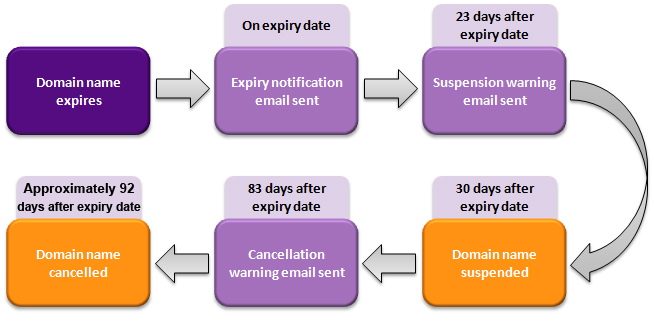 Transfering domains to another registrar
If you wish to transfer your domains to another registrar you can do as at any time.
We do not charge for releasing your domain to another registrar. To start a transfer process please email us at [email protected]